Still in for
Fabletics
- I've actually yet to skip a month! It is nice to know that I can do so but there's something really satisfying about slowly replacing all my workout/around the house outfits. . . I had a lot of stretched out, faded stuff.
For those who are unfamiliar with
Fabletics
, they offer monthly workout outfits starting at $49.95 for VIPs (and seemingly at $10 increments from that point depending on the items and the number of items - outfits tend to be 2 or 3 pieces). It is a subscription program so at the beginning of each month, you must either choose an outfit or opt out for that month - if you fail to do either, you will be charged the $49.95 minimum cost although you can later use that money to make a purchase (it's not like a punishment fee or anything). To make things even more enticing, Fabletics offers your first month at half price - that's $25 for one of the cheaper outfits (or half of whatever the cost is of the outfit you choose). Note the phrasing there: "first month" - that means that taking advantage of this offer will set you up in their VIP program and you will then either need to purchase/skip each month. . . or I guess you could take advantage of the offer and then cancel if you really wanted to.
I can say that this is one of my favourite subscriptions right now. I love the quality of their clothing. I love that I can basically wear sweats and a t-shirt and still feel stylish. And I love the fit and fabric of just about everything I've purchased. I also love that I can change up my sizing depending on the item and often have a choice of colours/patterns and, in pants, an option for a shorter or longer inseam (as a short person, it's so nice to not walk on my sweats or have them hemmed!). The biggest tip I have at this point is to read the reviews of each item you choose to help gauge fit - some items tend to fit larger or smaller than you might expect but the reviews of other subscribers are invaluable in helping determine whether to size up /down or stay the same. Another clue is in the description - maximum compression? size up or stay the same depending on your comfort level, loose/relaxed fit? probably safe to size down, between bra sizes? consider sizing down for many of them. On top of that, for each order and each review on their site, you can earn points to put towards more Fabletics items (from accessories to simple items like sports bras and tanks to fancier items like shrugs and leggings). More incentive to keep purchasing - clever.
This month I chose Laird Lake (which was actually one of last month's options) which includes 2 pieces: the Whitney Tee and the Ko Jogger. I considered a few of the new items for this month but I loved the Ko Jogger last month sooo much, I needed another pair! Since I found them pleasantly roomy last month (and I'm 8 months pregnant, lol), I chose not only a different colour but also a size down (optimism? maybe). Here's what it looks like on the site (sorry for the blurriness - I guess the pic didn't want to size up):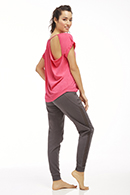 And here's what it looks like in the colours/sizes I chose:
The full outfit was $59.95 US for all three pieces with VIP pricing (or $99.90 regular pricing) which ended up being just over $100 CAN when I added on an accessory - I seriously wish prices were in Canadian since this is the Canadian branch of the company (items ship out of Toronto, their site is .ca. . . why can't their prices match accordingly?). So what did I think?
Whitney Tee ($19.95 VIP, $34.95 regular):
I picked this up in the "pop pink" shade that the model was wearing and it's bright. . . but a good bright. I really like it. The tee itself is soft and comfy and definitely relaxed fit. I can wear it comfortably now (at 8 months pregnant) but I think it'll fit a little nicer through the tummy afterward, obviously. From the front, it looks like a plain t-shirt but the back has a cut-out for a little interest. I might have opted for a size down if I had know how that part would fit - it seems to gape a little more on me than on the model. It's okay, but I might have sized down. I also didn't really notice that the sleeves are rolled up in the pic (it's small and I was obviously not looking that closely!) but I think it's a nice touch and love that they are tacked in place that way as well so I don't have to worry about them unrolling. This may not be the most stylish top I've gotten from Fabletics but it might be the most comfy and I love the colour!
Ko Jogger ($44.95 VIP, $64.95 regular):
As I said, I loved these pants last month and I also love them this month. I went with the "inkwell" shade since I already have the dark grey from last month (
review is here
). In a slightly smaller size, these still fit really nicely - even at 8 months pregnant! There is enough stretch and give through the tummy, probably because these are billed as "semi-fitted" which means they are not intended to be super tight. I already have a top in this shade (a navy with a bit of grey to it?) and really like it plus I think it goes really well with the pink.
I couldn't resist trying out one of their accessories this month so I also picked up the
Palmer Headband ($9.95 VIP, $12.95 regular pricing)
in the Mosaic Print. I had purchased a pair of leggings in this print in April (
review here
) so I figured this would go with those. Imagine my surprise (and dare I say glee?) at seeing virtually the same pink as the tee as part of the pattern and the inkwell as a background colour! Hooray for unexpected styling options! On the website, the models seem like they must have larger heads than I do since wearing this headband covers up virtually my whole head unless I fold it in some way. . .
Seriously - gigantic noggin or clever folding/photographic wizardry?
. . . but I will wear it gladly and love how it actually stays on my head without being so tight I get a headache :)
Overall Verdict:
Still loving Fabletics and their clothes. I know some people might have an issue with needing to access the site at the beginning of each month to choose / skip but I am not one of those people - I don't think it's that big a deal for what is, in my opinion, an awesome service. Further, while I have been impressed with their quick shipping thus far, this month they really hit it out of the park - I ordered on the 1st and the outfit was at my door on the afternoon of the 3rd! I wonder about how well returns or exchanges would work but I haven't had to do any yet - or really deal with their customer service at all. I do find that how a company handles it when things don't go smoothly is probably the best determination of the quality of that business. Any one have any experience or insight into this? And what did you get this month?
If this makes you want to try out Fabletics, please consider using
my link
:)