Have I mentioned how much I love
Fabletics
? Oh, I have? Well, forgive me if I do so again.
For those who are unfamiliar with
Fabletics
, they offer monthly workout outfits starting at $49.95 for VIPs (and seemingly at $10 increments from that point depending on the items and the number of items - outfits tend to be 2 or 3 pieces). It is a subscription program so at the beginning of each month, you must either choose an outfit or opt out for that month - if you fail to do either, you will be charged the $49.95 minimum cost although you can later use that money to make a purchase (it's not like a punishment fee or anything). To make things even more enticing,
Fabletics
offers your first month at half price - that's $25 for one of the cheaper outfits (or half of whatever the cost is of the outfit you choose). Note the phrasing there: "first month" - that means that taking advantage of this offer will set you up in their VIP program and you will then either need to purchase/skip each month. . . or I guess you could take advantage of the offer and then cancel if you really wanted to.
Now that that's out of the way, on to this month's outfit!
Actually, I didn't pick one of this month's outfits because, well, the inspiration this month was dancewear. . . ballet actually. Gorgeous stuff, really, but lots of lace, ties, cutouts, leotards and generally everything that would make me look like a sausage squeezed into a casing. Really pretty, if I were much, much thinner. Actually, that's my one complaint this month: all the models are, well, model-sized. I'd love to see the clothes modelled in different sizes so I can get an idea of what will work for me. We aren't all fit,
Fabletics
; some of us are at different stages on our fitness journeys. It would be nice to see the models reflect that. *steps down off of soap box*
So, I could have skipped this month. . . except there were still outfits available from last month's street-inspired Stash collab (
more on that here
). And I'm so street /sarcasm/ Okay, I just like the look. Here's Stanton ($49.95):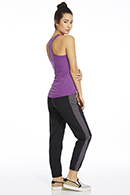 And, in not-model sizing:
Aventura Tank ($15.95 VIP pricing):
I don't own any racerback tanks. Lies - now I own two. This one is a gorgeous shade of purple (they also had a really pretty green that tempted me but if you know me, you know that temptation didn't last long because purple). It is soft, a bit on the thin side (but I have a racerback sports bra
from last month
to wear with it) and looser-fitting. If you like your tops body-skimming, pick your regular size; if you prefer a looser (or tighter) fit, size up or down accordingly. I find this flattering and comfy with a good length.
Windsor Pant ($39.95 VIP pricing):
If you had told me five years ago that I would own not one but two pairs of casual/sweat pants with a tapered ankle that stop just short of my actual ankle, I would have scoffed. I would have scoffed hard. And judged your sense of style. But I do and I love them! It's actually a pretty flattering shape on me. . . at least I think so. These ones are almost windbreaker material, so lightweight, and slightly less comfy than
last month's selection
. If the rise was just another inch, they'd be perfect. They even have zippered pockets so no pocket bulge on these ones :)
So, one thing I haven't mentioned about
Fabletics
is their points program: it's awesome. Unlike some other points programs, Fabletics does not award points solely for referring others (they do, so I'd love it if you'd use
my link
if you choose to sign up) - there are also other ways to earn them. Simply making a purchase earns 2 points per dollar, rounded to the nearest dollar. After you receive your order, you can log onto their website and review each item in your order for 20 points each. So if you order a 2-piece outfit for $49.95 (like Stanton, above), you earn 100 points for the order and 40 points if you review each item. That's 140 points! Then you can "spend" your points in the points shop: 300 point items tend to include things like hairbands, socks, etc.; 700 points can get you a sports bra, tank top or t-shirt; while 2000 points can earn you a fancier top, shrug or set of leggings, for example. I did some math and determined that if I continue to purchase almost every month, I can likely earn and spend 3 x 700 points in the same amount of time as 2000 points (they expire after a year) and that three 700-point items have more dollar value than one 2000-point item. Just something to think about. . .
I have purchased 4 months of
Fabletics
thus far and earned enough points to pick up one 700-point item. I chose the Sevan sports bra (because, FREE!) and picked up an Oula tank top for $10 at the checkout :) Here they are:
Sevan Sports Bra ($15.95 VIP pricing):
This looks cute and has a strap that goes around the neck in addition to regular straps. . . which feels kind of weird but is strangely kind of stylish? Maybe? Anyway, this is "light support" and they're really not kidding about that. I will wear this around the house and perhaps for a walk around the block. I might try it for a yoga class but there is not enough support for anything more athletic than that. It might work for someone with smaller breasts. But I don't. And it doesn't, really.
Oula Tank ($19.95 VIP pricing):
This is nice. My second racerback tank, this one is a slippier, stretchier fabric than the t-shirt feel of the Aventura Tank (above). I think it would be great and cooling for a sweaty workout. The pic to the right is intended to show you that there is a bit of a textured pattern down the sides and back of this tank, which I like - it just makes it feel a bit more special. The fit is good, albeit a little tighter and clingier because of the nature of the fabric. If that's an issue, size up or try the Aventura tank instead :)
Overall Verdict:
Another awesome month with Fabletics! All of this ended up costing me just under $100 CAN including shipping and exchange. I think that's seriously awesome and am impressed with how quickly I was able to earn enough points for free stuff. Some "rewards" programs make you work really hard for any payoff but this one is pretty fair. I love both tanks as well as the pants, and will wear the sports bra - even though it's not really "sporty" imo.
Did you pick up something from Fabletics this month? Am I the only one who would like to see different sizes modelled on clothing websites? Hit the comments!
And, as always, if this makes you want to try Fabletics, please consider using my link. Thanks!