I actually skipped last month of
Fabletics
- I was a little busy, right? But I needed to get in on this month's special collaboration with Stash! Stash is an artist renowned for working with graffiti - it's how he started in the 80s - and now has offered his talents to making graffiti prints for various clothing brands (like Nike. . . and now Fabletics!). Here is a sample of his work:
Am I the only one who really loves modern art? I swear, I'd hang this in my house if my husband would promise not to complain!
So, anyway, I was really excited to check out some street styles with funky prints this month and Fabletics didn't disappoint :)
For those who are unfamiliar with
Fabletics
, they offer monthly workout outfits starting at $49.95 for VIPs (and seemingly at $10 increments from that point depending on the items and the number of items - outfits tend to be 2 or 3 pieces). It is a subscription program so at the beginning of each month, you must either choose an outfit or opt out for that month - if you fail to do either, you will be charged the $49.95 minimum cost although you can later use that money to make a purchase (it's not like a punishment fee or anything). To make things even more enticing,
Fabletics
offers your first month at half price - that's $25 for one of the cheaper outfits (or half of whatever the cost is of the outfit you choose). Note the phrasing there: "first month" - that means that taking advantage of this offer will set you up in their VIP program and you will then either need to purchase/skip each month. . . or I guess you could take advantage of the offer and then cancel if you really wanted to.
Of course I picked one of the collabs this month, although I decided not to go all-out with Stash-printed leggings or anything, opting for a printed sports bra instead (demure? lol - just a little less flashy while I work on this baby weight!). This is Griffith: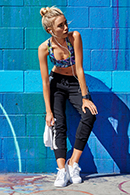 And, as always, here it is in not-model-sizing:
Mckinney Tee ($19.95 VIP pricing)
They've adjusted the way they describe fit so it's a little easier to decipher. This tee is described as "slightly relaxed, runs true to size" which to me means "pick the smaller of the two sizes you fluctuate between." Anything that has a looser fit makes me happy right now but I do find that if I go with the larger of the sizes, they're a little too roomy. This is body-skimming and goes to the hip. I opted for "Oasis" instead of the white since white shirts and my pukey baby would not get along well! It was also available in dark grey but I like colour :) The fabric is soft, thicker than I expected and I love the cut of this tee - a little higher at the neck (so my cleavage isn't hanging out) with a stitched-down rolled sleeve. Love!
Julliard Jogger ($44.95 VIP pricing)
These are available in black or heather grey with a white accent. I like a darker pant to minimize my bottom half so that was a no-brainer. I opted for the larger of the sizes I straddle since these were described as "fitted, true to size" and I'm glad I did. They fit comfortably but I do have a little pocket bulge that needs adjusting semi-regularly - am I the only one who has to deal with this? Tell me I'm not. I like the more hip-hop vibe (do I sound old?) to the cut - they are lower rise with a slightly shorter, elasticised ankle. I wish I had some cooler running shoes to go with :) These are also a thicker feel, more like a sweatpant than the pants I've picked up from Fabletics in the past. I like!
Doon Sports Bra ($24.95 VIP pricing)
Love that print! This is a medium-support bra which is definitely more supportive than the other bra I've gotten from Fabletics, although not supportive enough for, say, aerobic activity (so I could wear this to yoga, maybe spinning, but definitely not Zumba). I followed the sizing chart but do find this a bit tight through the band, though wearable. I love the racerback - I don't have a bra like this although I have a few tops that will benefit from it. My one wish is that it had a back closure instead of being a pullover - I think that would help my band issue, for one, and would make it easier to get on and off. I like it though and will totally wear it.
Overall Verdict:
This outfit came to $69.95 with VIP pricing. With shipping and exchange, this works out to be just over $110 Canadian. . . exchange is the worst! I do love this outfit and think these items are great. I'm not sure I would have spent that much on similar items in a store near me but the quality is great, the fit is pretty good, and I feel good wearing them. I can't discount the value on that last point - I feel good wearing them! That makes me want to get back into being a bit more active and working on my fitness level since I know I'll feel pretty good doing it.