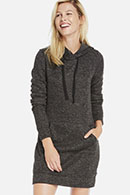 Well, that's a bummer! I was sooo close to picking up the gorgeous black sweatshirt dress last month. But I didn't. So this month, I saw it in another colour (this gorgeous winter white / black heather) and needed it. Urgently. I pictured myself lounging in front of the Christmas tree, sipping a cup of Tea Sparrow with a sheet mask on. . . *sigh*. Doesn't the model look so comfy? But it was not to be. So this month's "review" post is going to be all about the
Fabletics
return process, and how it works for Canadians, instead!
For those who are unfamiliar with
Fabletics
, they offer monthly workout outfits (or loungewear, if you're more like me) starting at $49.95 for VIPs (and seemingly at $10 increments from that point depending on the items and the number of items - outfits tend to be 2 or 3 pieces). It is a subscription program so at the beginning of each month, you must either choose an outfit or opt out for that month - if you fail to do either, you will be charged the $49.95 minimum cost although you can later use that money to make a purchase (it's not like a punishment fee or anything). To make things even more enticing,
Fabletics
offers your first month at half price - that's $25 for one of the cheaper outfits (or half of whatever the cost is of the outfit you choose). Note the phrasing there: "first month" - that means that taking advantage of this offer will set you up in their VIP program and you will then either need to purchase/skip each month. . . or I guess you could take advantage of the offer and then cancel if you really wanted to.
But first, here are some detail shots of the dress and my thoughts on it:
So soft! A nice big hood, with drawstrings. But altogether too tight through the shoulders for me. . . like weirdly so, since I ordered a size larger than I usually would for a top (since it covers my butt. . . well, more on that later. . . I thought I'd go with the size I usually get leggings in). Not comfy when I worry about lifting my arms :( And my husband had to help me take it off :(
You can kind of see the front pocket here, a snuggly place for both hands (unless holding a tea, or a large glass of wine, lol). I loved that this was billed as a "dress" because I thought it would be a good length - I'm a little self-conscious about shorter tops (and I have received a few from Fabletics, so I thought this would be a good pick). Unfortunately, this was way too short! Like, it didn't actually cover my butt (and barely covered my crotch, to be honest). I was going to wear it over leggings anyway but still, not a dress.
So, clearly I had to return this! Here's how that went:
1. Thankfully I didn't remove the tags! Fabletics only takes returns/exchanges in "saleable condition" which means, tags on, unworn (and clean, obviously).
2. While American customers can simply request a return label on the website, Canadian ones have to call customer service. That's a bit of a pain the butt but I did have a lovely customer service rep who made everything easy.
3. I could have gotten an exchange but I didn't really want to size up any further - to be honest, I don't think this particular outfit was ever going to work for me. That left two options for return: a chargeback on my credit card or store credit. According to the rep, Fabletics does charge a $4.95 restocking fee if you choose to chargeback your card. . . so I went with store credit.
4. I was sent a shipping label to print and affix to my package. I was able to use some packing tape to reseal the original packaging so that was handy! Printing was less convenient because we don't own a printer. Thankfully, my parents do and they live nearby.
5. I was originally a little confused as the customer service rep said to drop it off at any post office, but the email said to arrange pickup with Purolator. I think the email was the instructions for American customers, unedited for Canadian customers, because the label clearly said Canada Post on it. Which made me happy because I love my Canada Post delivery lady (we did buy her a Christmas gift this year!) and there is a drop-off not far from where I live.
6. The return was "pending" on my account for a little over a week - which I think was fair considering the shipping may have taken a little longer than usual at this time of year, plus 1-2 days to process at their end.
7. The original outfit was $59.95 US, plus $5.95 shipping. When I log onto my account, I have 1 Member Credit of $49.95 and Store Credit of $17.79 which accounts for the difference in cost plus the taxes charged. . . less the $4.95 restocking fee :( I'm going to go ahead and assume that this is something "special" just for Canadians (correct me if I'm wrong) and that my rep was not aware of it when he told me there wouldn't be one.
As for the "Member Credit" vs "Store Credit", it's my understanding that Member Credits (what you end up with if you forget to skip, for example) don't really count as cash. You can't trade them in for cash, only for product worth that amount. . . and I'm pretty sure that has to be part of my monthly membership order. I don't think I could "spend" it on the holiday sales in their shop, for example. I do think that I could spend the Store Credit in that way though. The only reason I can see for dividing it up this way is that, when I read the fine print, a membership credit must be redeemed in full on one purchase - so if I were buying something less expensive (and $49.95 is the minimum price for an outfit), that would be a problem.
Overall Verdict:
Completing this return was easy! There are really only two things
Fabletics
could do to improve the returns process for Canadians: let us request the return packing slip online just like your American customers can and, ideally, nix the restocking fee or, more reasonably, make sure all your customer service reps have the right information about it. While I am disappointed that this outfit didn't work out, I am happy to be able to share this experience with my readers! And, generally, happy at how painless the process was. Kudos to Fabletics for that!
As always, if this piques your interest in
Fabletics
, your use of
my links
would be much appreciated. I pay for this subscription myself and referrals help to keep this blog running :)